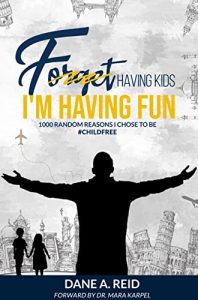 "Forget Having Kids – I'm Having Fun" is a FUN book that examines all avenues of life and answers the question: Why Do So Many People Not Want Kids? Funny, extremely racy entertaining thought-provoking "Forget Having Kids. I'm Having Fun"
is a page-turner written in the vein of the classic tv show "Everybody Hates Chris". It's a wink-wink from the front cover to the last pages that will have parents and child-free people laughing and thinking about the cycle of life and how we arrive at making life's biggest decision. This insight-filled book encourages positive self-care while challenging traditional ideas."Forget Having Kids. I'm Having Fun" is a conversation starter. How you end that story is up to you
Chapters Include:
Chapter 1 The Vas Deferens
Chapter 2 Reason # 137 There's Nothing a Kid Can't Break
Chapter 3 Reason # 430 Because STFU
Chapter 4 Reason #45 But They Want to Travel Too
Chapter 5 Reason # 617 Everybody's Got a Friend Named Mike
Chapter 6 Reason #122 I Don't Want the Responsibility
Chapter 7 Reason #223 The Book of Brittany, Part 1
Chapter 8 Reason # 828 There's Never a Good Time to Have Kids
Chapter 9 Reason #308 I'm Selfish and That's Okay
Chapter 10 Reason #268 I Am Not a Role Model
Chapter 11 Reason # 33 Who's Gonna Entertain Them?
Chapter 12 Reason #101 I Don't Find Kids Interesting
Chapter 13 Reason #521 Jeffrey Dahmer Versus MLK
Chapter 14 Reason #71 Not All Kids Are Smart, Not All Kids Are Cute
Chapter 15 Reason #501 Kids Don't Come with Instruction Manuals
Chapter 16 Reason #928 I Swore I'd Never Do Math Homework Again
Chapter 17 Reason #809 The Mom and Dad Bod
Chapter 18 Reason #315 I Can't Always Protect Them
Chapter 19 Reason #806 I Don't Need to Leave a Legacy
Chapter 20 Reason #6 Kids Have Cooties
Chapter 21 Reason #1 They Cost Too Damn Much
Chapter 22 Reason #620 When My Relationships End, I Want a Clean Break
Chapter 23 Reason #730 Anthony Bourdain
"Forget Having Kids. I'm Having Fun: 1000 Random Reasons I Chose to Be #ChildFree" was first posted on freebookpromotions.com on January 23rd, 2023. Each day we feature new free and discounted Kindle books in the
Humor & Entertainment
genre as well as all other genres.
Authors: if you would like to see you book promoted on freebookpromotions.com, please visit our
book promotions
page.