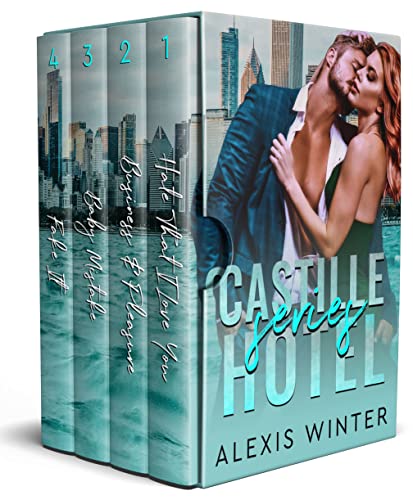 Sometimes it's best to follow a few rules when you're working for a demanding, ruthless but sexy-as-hell billionaire…then again, sometimes the rules are meant to be broken.
Dive into this swoon-worthy, steamy collection today and find out why rules don't apply to these demanding men who will stop at nothing to claim the women they love.
Books Included:
Hate That I Love You
Ten years ago I gave my virginity to an arrogant, sex-god who never called me back.Ten minutes ago I just found out he's my new coworker. Who knew a failed blind date would land me square in the lap of the gorgeous bastard that cut and run after one passionate night ten years ago. Falling for Nate Baldwin in college was the biggest mistake of my life. Nothing like a good old-fashioned heartbreak to teach a girl a valuable lesson. Now? He's just a cocky, prank-playing bastard in an expensive suit. I can't decide if I want to punch him in his perfect mouth or kiss it. Turns out there's a very fine line between hatred and desire. A good anger bang on a desk…or stairwell…or car never hurt anyone. But what happens when he calls a truce and starts playing nice? Not a chance in hell I'm falling for him again. That mistake stays in the past…or will it?
Business & Pleasure
Rich. Arrogant. So drop-dead sexy you're ready to sell your kidney just to touch him.Did I mention he's technically my new boss?You know the type… Every man wants to be him and every woman wants him. Mr. Never-Goes-Home-With-The-Same-Woman-Twice guy. All I have to do is follow the rules.
1. Don't sleep with the sexy, arrogant prick.
2. Don't drool every time you look at his perfectly chiseled face and rock-hard body.
3. But mostly…don't let him know you want him just as bad.
Then again…rules are meant to be broken. Yeah, I'm screwed. Can a no-strings-attached fling blossom into actual, head-over-heels love or will I ruin my career when I finally slap that smug grin off his panty-melting face?
Baby Mistake
How to destroy your career in three easy steps…
Step #1: Sleep with your boss.
Step #2: Get pregnant by your boss.
Step #3: Quit your job and run away from your problems.
Griffin Karlsson, cold and arrogant… he should have been easy to hate. But I always had a few scorching hot fantasies about Mr. Stick Up His A$$. After all, who doesn't want a Thor-looking god of a man to drool over? Now I'm pregnant, jobless and oh, I haven't told the father… He already has his perfect life, I don't need to be reminded I'm carrying his mistake.My only option?Run.
Fake It
I can fake anything for fifty grand…Including being the pretend fiancée to Mr. Sex-on-a-stick himself, Cameron Styles.Chicago's most successful, ruthless lawyer and douchebag extraordinaire. Turns out when you're staring down the barrel of bankruptcy and possible eviction…you'll do pretty much anything for some quick cash. I gave myself two rules.
#1. Don't fall into his bed.
#2. Don't fall in love.
There's one small problem…I'm REALLY bad at following my own rules.Just when I think there's a glimmer $0.99 on Kindle.


"Castsille Hotel Series Boxset: A Complete Billionaire Office Romance Collection" by Alexis Winter was first posted on freebookpromotions.com on May 03rd, 2022. Each day we feature new free and discounted Kindle books in the
Romance
genre as well as all other genres.
Authors: if you would like to see you book promoted on freebookpromotions.com, please visit our
book promotions
page.